Discover more from The Bear Cave
Exposing Corporate Misconduct
Over 54,000 subscribers
Problems at Celsius Holdings (CELH)
Problems at Celsius Holdings (CELH)
Celsius Holdings (NASDAQ: CELH — $1.63 billion) is a company like no other. The company allegedly makes healthy energy drinks and its stock is up nearly 900% in the last five years. Its investors include indicted bankers involved in 1MDB, hip-hop producer Russell Simmons, and a shark from Shark Tank. The company uses an auditor not used by any other NYSE or NASDAQ listed company and has told the SEC it does "not expect that our disclosure controls or internal controls will prevent all error and all fraud."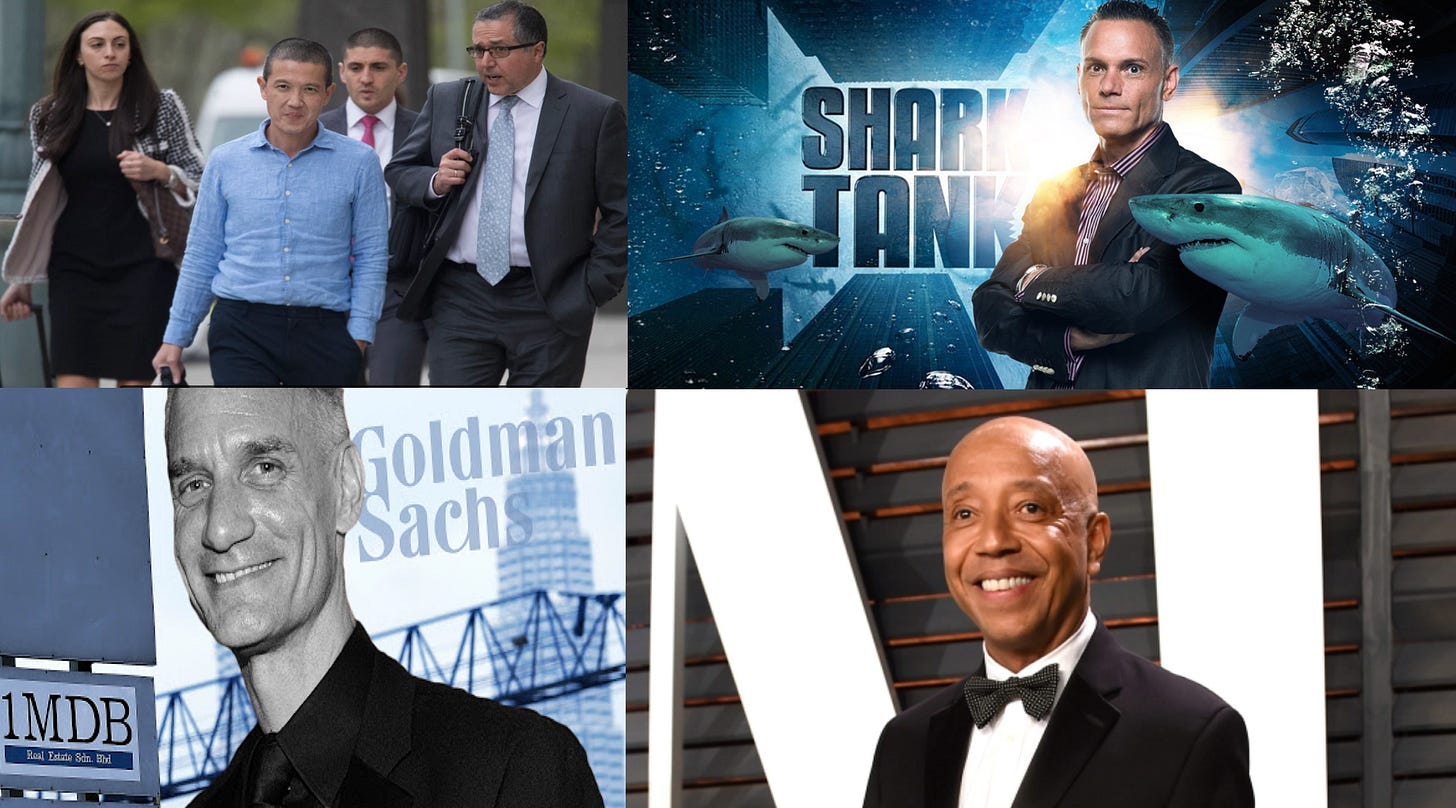 (Clockwise from top-right: Celsius board member Kevin Harrington, Celsius investor Russell Simmons, former Celsius board member Tim Leissner, former Celsius managing director of Asia region Roger Ng.)
Celsius is in the business of development, marketing, sale and distribution of healthy fitness drinks under the Celsius brand name. The company, based in Boca Raton, Florida, is valued at roughly 16x its trailing twelve month sales of approximately $100 million. Part of the reason for this rich valuation has been incredible revenue growth. For its most recent quarter, Q2 2020, Celsius's revenue grew 86% compared to Q2 2019. A major contributor to this growth was European revenue, which in Q2 2020 was approximately $8.8 million, up 595% from Q2 2019 revenue of $1.3 million.
Celsius's revenue growth in Europe largely comes from its acquisition of its Nordic distributor, Func Foods, in October 2019. Prior to its acquisition, Func Foods as a customer represented about 14% of Celsius's revenue, but over 32% of its accounts receivable balance. After Celsius bought Func Foods, the company took a number of "non-recurring charges" including a $2.2 million inventory impairment charge.
Prior to Celsius acquiring Func Foods, Func disclosed a going concern warning in its filings and announced it was undergoing a "voluntary restructuring."
The large accounts receivable balance, followed by Celsius's acquisition, followed by an inventory write-down, suggests, in my opinion, that a portion of Celsius's revenue is non-economic in substance because Celsius appears to have recognized revenue on sales of product that was not consumed by end customers. In addition, it appears Celsius loaned Func Foods approximately 8.5 million Euros around the time the acquisition closed.
Celsius also has a perplexing relationship with its Asia partner, Qifeng Food Technology. Celsius entered into "a license and repayment of investment agreement with Qifeng Food Technology." However, that agreement, and its accounting, is now part of an arbitration dispute with McGovern Capital. Celsius discloses the following in its most recent 10-Q,  
"The company has obtained two opinions pursuant to GAAP and related accounting rules indicating that its agreements with Qifeng are not "Net Revenue" as it relates to the repayment of the investments which are accounted for as a note receivable to the Company, and therefore that it has not breached any obligations to McGovern under its agreements."
According to a Bloomberg report, Celsius's managing director of Asia was Roger Ng. His name has since been removed from the company's website and Mr. Ng has been charged for conspiring to launder money and bribe government officials in Malaysia and Abu Dhabi as part of the 1MDB scandal.
In addition to these curious issues, Celsius has changed its revenue recognition policy. In 2017 Celsius had the following revenue recognition policy:
"Revenue is recognized when persuasive evidence of an agreement exists, the products are delivered, sales price is fixed or determinable, and collectability is reasonably assured."
In 2018 the revenue recognition policy was updated:
"Revenue is measured as the amount of consideration the Company expects to receive in exchange for transferring goods."
Celsius's auditor is Assurance Dimensions, a small Tampa-based firm. According to PCAOB records, Assurance Dimensions serves as the auditor for no other NYSE or NASDAQ listed company other than Celsius. The average market capitalization of Assurance Dimensions' 2019 public clients, excluding Celsius, is about $5 million.
The chairman of Celsius's audit committee is Thomas E. Lynch, 72 years old. He is currently the mayor of the Village of Golf in Florida. The co-chairman of Celsius's board is Tony Lau, 28. Mr. Lau also serves on the board of directors of ChromaDex Corp (NASDAQ: CDXC — $247 million), a dietary supplement company.
Grieg International Limited is an early Celsius backer and large shareholder. In SEC filings Grieg uses the address 29th Floor, Harbour Centre, 25 Harbour Road, Wanchai, Hong Kong. This same address was also used by "Pioneer Step Holdings Ltd" in transactions involving ChromaDex. A prominent past investor in ChromaDex was Barry Honig, who was charged by the SEC for market manipulation in penny stocks. (However, there is no indication that Mr. Honig is involved in Celsius.)
Celsius's issues have not gone unnoticed. The SEC has sent detailed comment letters to the company concerning its accounting, disclosures, and numerous typos in its filings.
You can read the full correspondence here: 1, 2, 3, 4, 5, 6, 7, 8.
Below is a sampling of comments the SEC sent to Celsius:
SEC comment: "The percentages you have disclosed under Item 1 as the proportions of sales attributable to your two largest customers for the year ended December 31, 2015, and the six months ended June 20 [sic], 2016, correspond to the proportions of the accounts receivable balance, rather than sales… Please revise accordingly."
Response: "In response to the Staff's comment, we corrected the disclosure previously provided…"
SEC comment: "We note that you report $273,935 of net loss for the six month ended June 30, 2015 in the Statements of Operations. However, you report net income rather than net loss for the same period in the statement of cash flows. Please resolve this inconsistency."
Response: "The inconsistency noted by the Staff, which was an inadvertent error has been corrected."
SEC comment: "[Please] indicate that management evaluated the effectiveness of your internal controls over financial reporting and provide management's conclusions with respect to the effectiveness of these controls."
Response, in part: "Our Interim President and Chief Executive Officer and Chief Financial Officer do not expect that our disclosure controls or internal controls will prevent all error and all fraud… the design of a control system must reflect the fact that there are resource constraints, and the benefits of controls must be considered relative to their costs. Because of the inherent limitations in all control systems, no evaluation of controls can provide absolute assurance that all control issues and instances of fraud, if any, within the Company have been detected."
With these issues, you may be wondering who would invest in Celsius. In its 2017 10-K, Celsius disclosed that Russell Simmons and Tim Leissner owned over 7% of the company. Mr. Simmons is a hip-hop producer who has been accused of sexual misconduct by multiple women. Mr. Leissner, who served on the Celsius board from 2016 to 2017, perpetrated a "massive corruption scheme" involving Malaysia's 1MDB sovereign wealth fund according to an SEC order against him. As part of the SEC order, Mr. Leissner was "barred from association with any broker, dealer, investment adviser, municipal securities dealer, municipal advisor, transfer agent, or nationally recognized statistical rating organization." In addition, Mr. Leissner paid disgorgement of $43.7 million.
Mr. Leissner and Mr. Simmons are no longer listed as major shareholders of Celsius. However, Kimora Lee Simmons, who is the ex-wife of Russell Simmons and the current wife of Mr. Leissner, reported a 5.6% stake in the company in its most recent annual filing. At current prices that stake is worth approximately $90 million.
According to its most recent 10-K, the largest Celsius shareholder is Carl DeSantis, who owns about 33% of the company through various vehicles. Carl DeSantis previously founded a vitamin company that paid $12 million to settle charges of misleading health claims with the FTC. Sir Li Ka-shing, a Hong Kong business magnate worth approximately $30 billion, also owns about 13% of Celsius.
In August of this year six Celsius directors and CD Financial LLC, an affiliate of Carl DeSantis, sold about 1.3 million Celsius shares at $15.30 in a private placement transaction. Kevin Harrington, one of the directors, sold about 80% of his holdings. Mr. Harrington was also an original "shark" on the TV show Shark Tank.
In addition, earlier this month three institutional holders filed a prospectus to sell about 2.7 million shares of Celsius stock.
Celsius does have a real product and real distribution. You can buy Celsius drinks on the websites of Walmart, Target, and Amazon. However, despite being in the high margin business of selling energy drinks, Celsius has generated about negative $20 million in cash from operations over the last five years. This has been offset by the issuance of about $40 million in stock over the last five years.
According to its most recent quarterly filing, Celsius holds about $20.1 million of cash. However, the company also warns of potential credit risk around its cash holdings:
"Financial instruments that potentially subject the Company to concentrations of credit risk consist primarily of cash and cash equivalents and accounts receivable… At times, balances in the Company's cash accounts may exceed the Federal Deposit Insurance Corporation limit. At June 30, 2020, the Company had approximately $18.8 million in excess of the Federal Deposit Insurance Corporation limit."
Caveat Emptor
---
This article is not investment advice and represents the opinions of its sole author, Edwin Dorsey. You can reach the author by email at edwin@585research.com or by phone at (718) 873-2362. This article is for paid subscribers of The Bear Cave newsletter. If this article was forwarded to you please consider becoming a paid subscriber to receive articles like this twice every month.
(This post was originally for paid subscribers. The paywall has temporarily been removed.)