Discover more from The Bear Cave
Exposing Corporate Misconduct
Over 54,000 subscribers
Problems at EverQuote (EVER)
Problems at EverQuote (EVER)
EverQuote (NASDAQ: EVER — $1.09 billion) claims to be a marketplace that helps consumers compare car insurance quotes, primarily on its website everquote.com. In reality, EverQuote is a combination of over 100 questionable auto insurance lead generation websites. In addition, EverQuote rarely gives consumers actual quotes and instead refers them to other websites. EverQuote makes money from these referrals as well as selling consumer info to insurance agents.
EverQuote's model has generated hundreds of consumer complaints and scrutiny from state attorneys general based on records obtained via public record requests.
Below are 70 EverQuote brands discovered through a review of the company's domain registrations.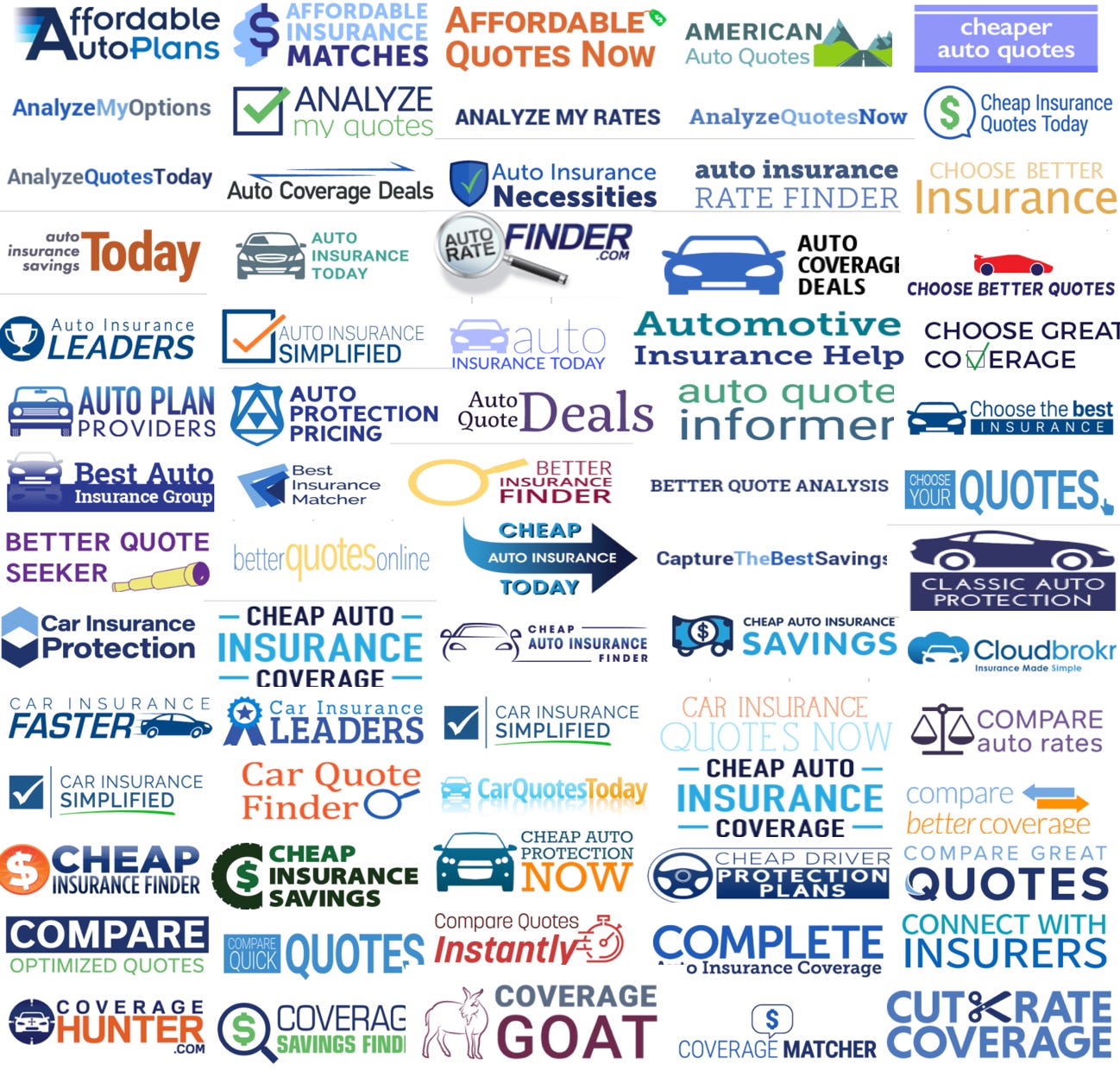 Based on my review of company filings, EverQuote's only SEC disclosure of these brands is in its most recent 10-K, "We advertise to consumers, under the EverQuote brand, as well as additional brands…" EverQuote did not include this disclosure in prior annual or quarterly filings and does not reference its other brands in its investor presentations or quarterly calls.
The reason is simple, these brands contradict EverQuote's narrative of being a singular marketplace. The word "marketplace" was used 94 times in the company's last four earnings calls and 158 times in its most recent 10-K. In its most recent investor presentation, EverQuote called itself the "leading online insurance marketplace" and made no mention of its other brands. EverQuote's unfitting disclosures may leave shareholders unaware of the existence and extent of EverQuote's use of other brands.
EverQuote drives traffic to its websites largely through online advertising. Since inception, the company has spent $770 million on digital ads for 182 billion digital ad impressions, and the company currently spends roughly 80% of its revenue on advertising. You have probably seen an EverQuote ad like the one below.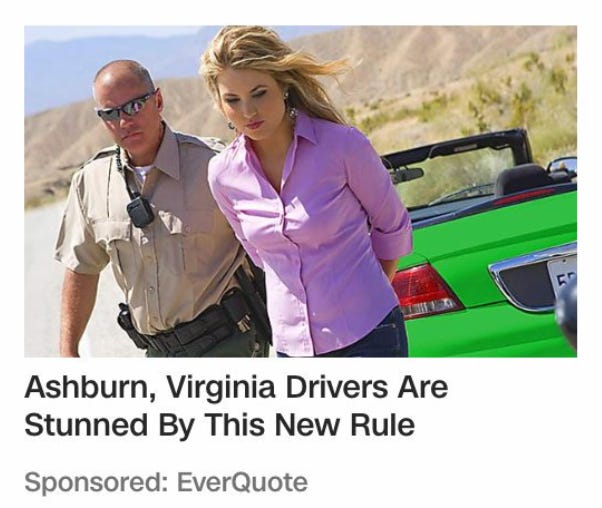 EverQuote advertises questionable content on some of its websites. For example, on EverQuote brand "US Auto Insurance Now" the company has a landing page that appears like a fake news article titled, "New York, New York: How 2 Math Grads are Disrupting the Auto Insurance Industry." You can view the misleading page here.
The fake article page on US Auto Insurance Now makes no mention of EverQuote. At the bottom of the page, in size eight font, is the warning:
"If you do not agree to our terms and policies, then please leave this site immediately."
If you click on the terms and policies on US Auto Insurance Now it redirects to EverQuote.
In online complaints and complaints to state attorneys general, consumers frequently report spam calls from telemarketers after using EverQuote's websites. Some consumers claim they never consented to the calls, requested to be placed on do not call lists, and never received actual quotes from the company.
In 2018, the Washington Attorney General forwarded a consumer complaint to EverQuote as part of an informal complaint resolution process, according to documents obtained via public record requests. The letter mentioned that the Washington Attorney General's Office "monitors consumer complaints for possible indications of patterns of unfair or deceptive trade practices." EverQuote responded by saying it had no record of the consumer in its database.
Earlier this year, EverQuote's compliance team wrote a consumer and CC'd the Kentucky Attorney General's Office apologizing for potentially misusing consumer information. The email, obtained through public record requests, is below.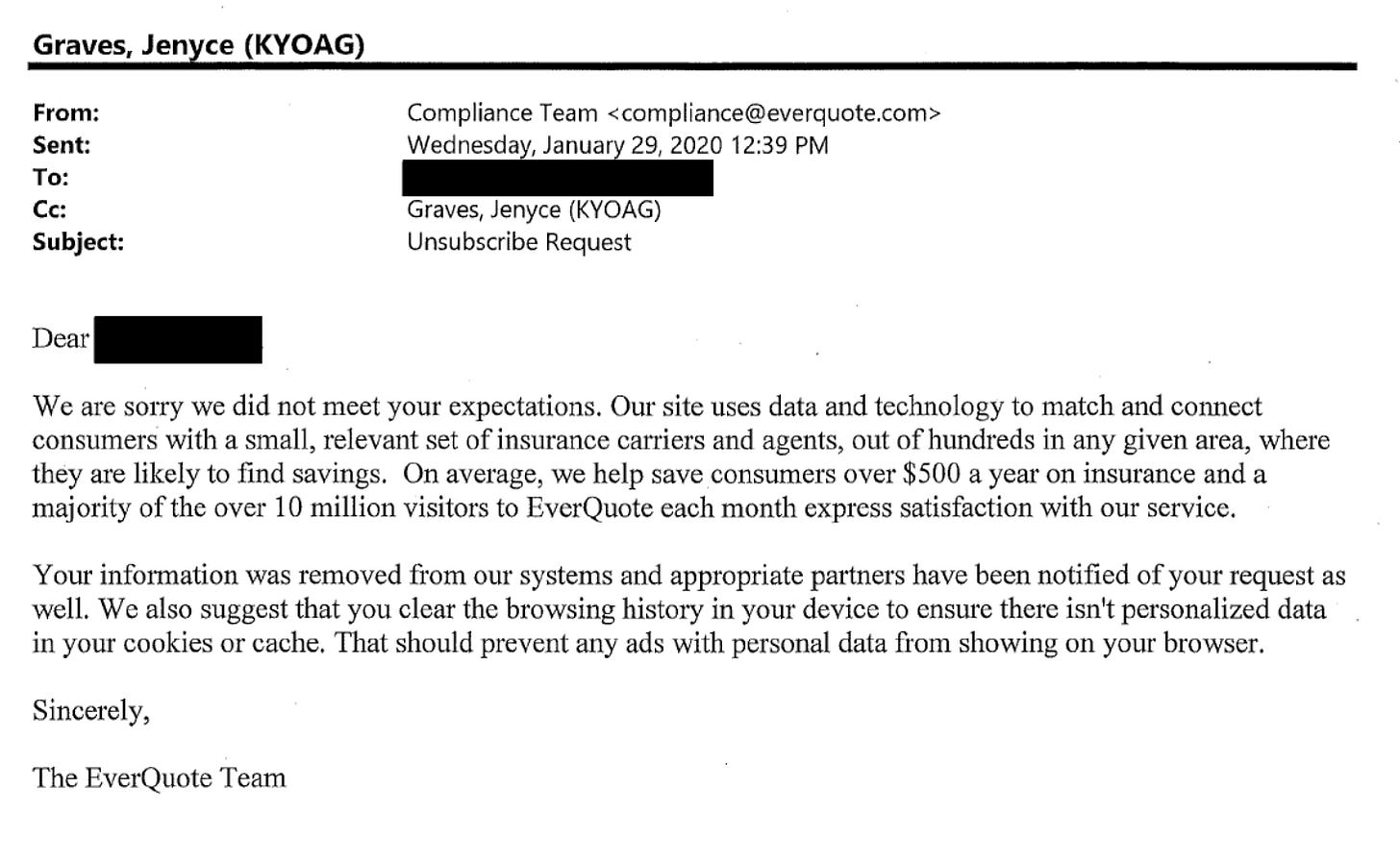 In April of this year, a class action lawsuit filed against EverQuote alleged violations of the Telephone Consumer Protection Act. The lawsuit alleged that the "Plaintiff received dozens of sales calls from [EverQuote] after he requested that the calls cease." In June, a second class action lawsuit was filed alleging violations of the Telephone Consumer Protection Act.
Below are some consumer complaints on EverQuote from the website SiteJabber, where EverQuote averages 1.1 stars.
"Highly deceptive operation. DOES NOT SIMPLIFY finding insurance. The idea that you just give your info once is a complete lie. The just sell your contact info and you will get unending calls from insurance carriers… They provide NOTHING." (Link)
"This company promises online quotes, but that just doesn't happen. After submitting tons of info online I got inundated with responses about all kinds of supposed "quotes" then had to fill out more forms with much of the same info again… Bottom line is that this is a scam." (Link)
"These people have no ethics. They got my number from a list somewhere and called me 10 times during the day and multiple messages despite me asking them to stop. A legitimate company would not act like this." (Link)
Below are some complaints from the Better Business Bureau, where EverQuote averages a little below two stars.
"[EverQuote] bothers me constantly with 5000 word nonsensical and potentially scamming emails which I never asked for and find infuriating. I'm going to file a complaint with the AG."
"I'd give a negative star if possible. How these degenerates could believe that constant, irritating and unwanted emails could motivate anybody to do business with them is beyond comprehension… How is this legal? It's time to contact the Consumer Protection Agency."
"What a scam. I swear if I get one more call, I'm filing with the FCC."
"These scummy abusive spammers won't stop. I've tried everything to get them to stop spamming me with their various aliases and they won't stop. They have rogue affiliate "marketers" that just send the same spam offers several times a day. It's ridiculous. I've reported them to the FTC."
EverQuote appears to rarely give actual quotes. Instead, after collecting consumer info, the company offers referral links to insurers like GEICO and Progressive to fill out more forms. In some cases, EverQuote's brands will provide referral links to other lead generation websites. Below is the "quotes" page displayed by Affordable Quotes Now, an EverQuote brand, after I completed its forms. Instead of giving me quotes or links to insurance companies, it referred me to other auto lead generation websites.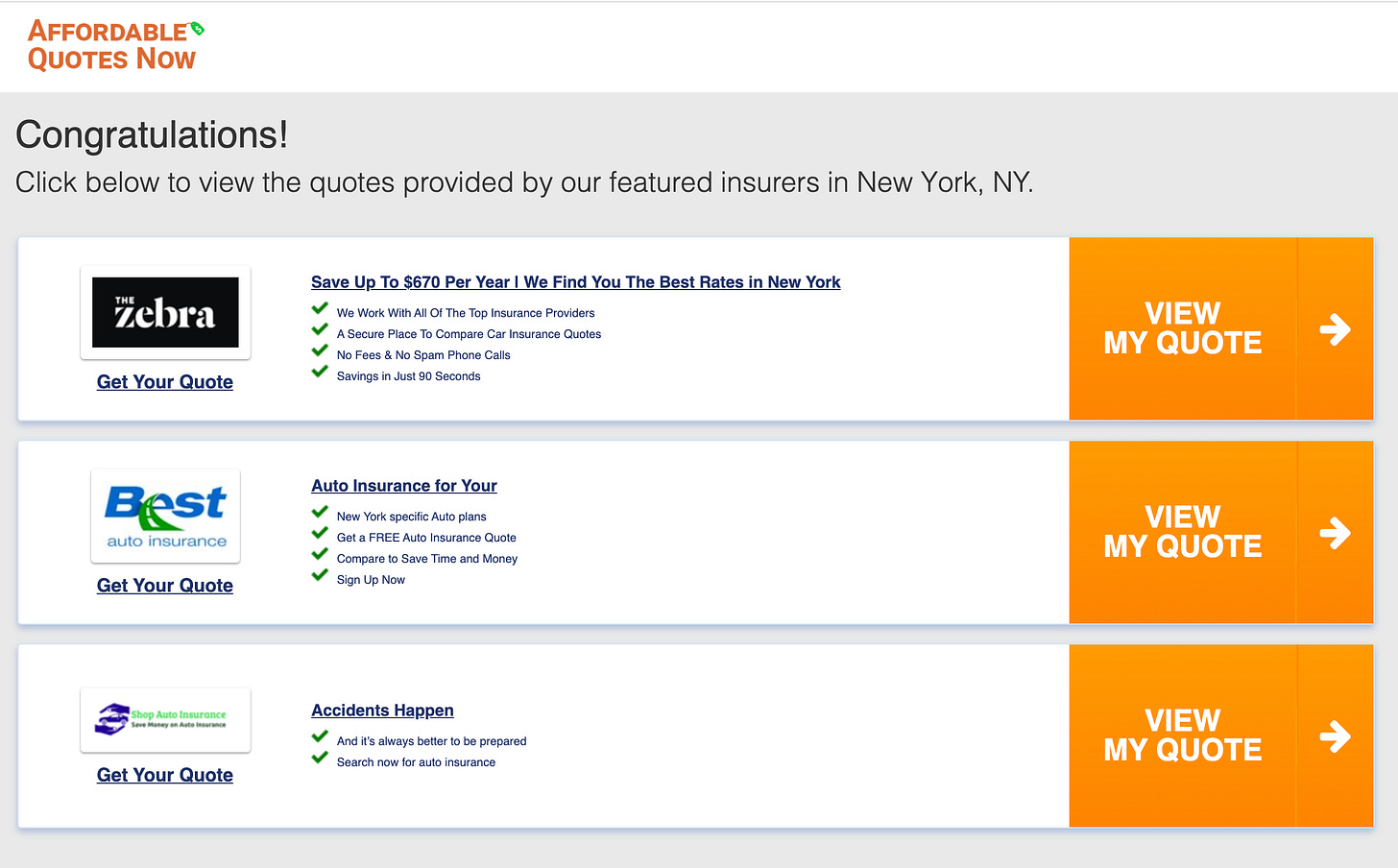 EverQuote currently trades at over 3x revenue and has produced a cumulative GAAP net loss of approximately $20 million since going public and a GAAP net loss of almost $5 million in the trailing twelve months. EverQuote may face additional headwinds in the future as online ad prices, the company's biggest cost, rebound post-coronavirus.
Management seems skeptical of the EverQuote model too. In the last twelve months the company's CEO has sold $12 million in stock, the COO has sold $4 million, the CFO has sold $2 million, and the General Counsel has sold $1.2 million. EverQuote has also tried to pivot into other verticals like healthcare, home, and life insurance, but auto revenue remains over 80% of the company's revenue base.
In its most recent annual filing EverQuote warns investors that consumer dissatisfaction could pose a risk for the company:
"If consumers do not find value in our services or do not like the consumer experience on our platform, the number of referrals in our marketplace may decline, and our business, results of operations and financial condition could be materially adversely affected."
Caveat emptor.
---
Additional Reading
"EverQuote - the chum of insurance" (Substack)
EverQuote write-up (ValueInvestorsClub)
Twitter thread on misleading EverQuote ads (Twitter)
Bonitas Research Short Report (Bonitas)
---
This article is not investment advice and represents the opinions of its sole author, Edwin Dorsey. You can reach the author by email at edwin@585research.com or by phone at (718) 873-2362. This article is for paid subscribers of The Bear Cave newsletter. If this article was forwarded to you please consider becoming a paid subscriber to receive articles like this twice every month for $34/month.