Discover more from The Bear Cave
Exposing Corporate Misconduct
Over 56,000 subscribers
🐻The Bear Cave #36 + Problems at Vista Equity Partners🐻
Problems at Vista Equity Partners, New Activist Reports, and Tweets of the Week
Welcome to The Bear Cave — your weekly source of short-seller news. If you are new, you can join our email list here.
---
Problems at Vista Equity Partners
Robert Smith, a co-founder of Vista Equity Partners, recently signed a non-prosecution agreement over alleged tax fraud. Two lawsuits filed by independent directors of Vista's portfolio companies suggest much bigger problems at the private equity giant.
In September 2019, Dr. Kurt Lauk, the former CFO of Audi, filed a lawsuit against Vista Equity Partners. Dr. Lauk was an independent board member at Solera Global Holdings, an automotive software company that was 52% owned by Vista.
The lawsuit alleged that as a majority shareholder Vista blocked Solera from acquiring a non-Vista company, Lytx, in order to push the acquisition of a struggling Vista portfolio company, Omnitracs.
The lawsuit stated, "Beginning on or around 2017, Vista… engaged in a pattern of self-dealing, misrepresentations, and improper conduct designed to benefit Vista at the expense of Solera, and its shareholders. Vista completely disregarded corporate governance and treated Solera as if Vista is the only stockholder… As an example of Vista's improper conduct, Vista guided Solera away from profitable acquisitions, and instead toward self-dealing acquisitions."
The lawsuit detailed how Vista pushed the related-party acquisition of Omnitracs over Lytx (see below).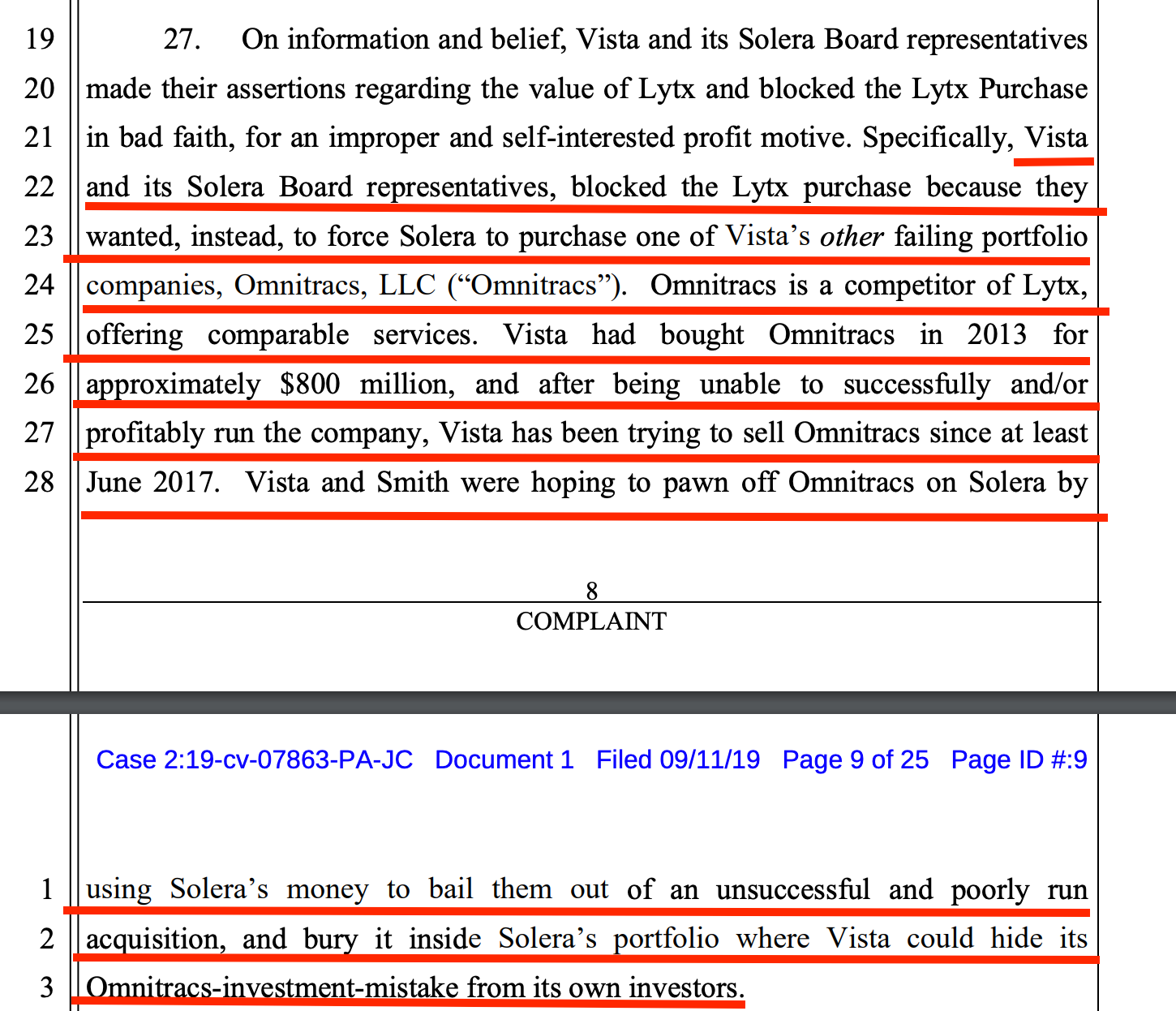 The lawsuit also alleged that "Vista's actions appear designed to mislead current and future investors concerning Vista's performance" and highlighted an unnamed investment that had $50 million in EBITDA "reduced to zero" after Vista acquired it (see below).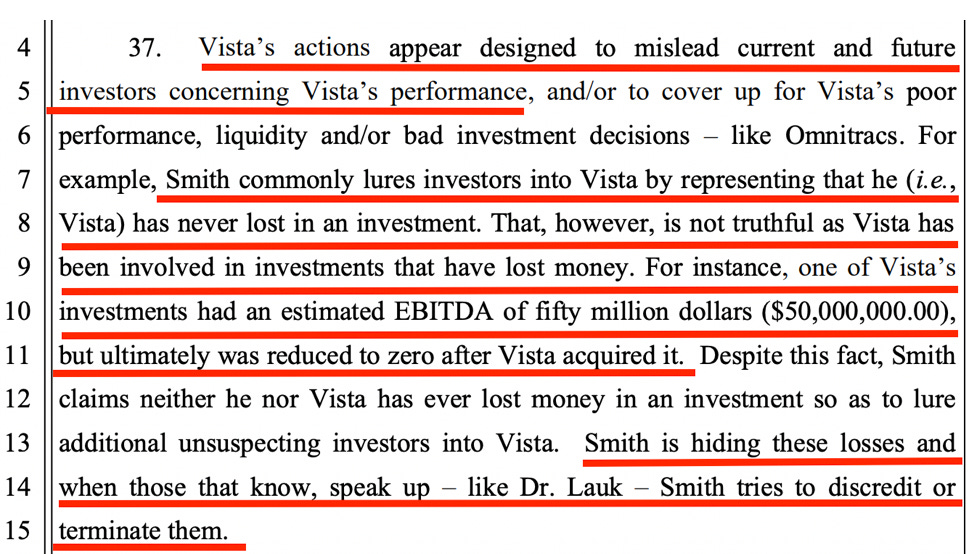 The Lauk lawsuit also alleged, "[Vista treated Solera] like their personal piggy bank to pursue purchasing their own portfolio companies using Solera's money." And highlighted that two Vista employees, "Christian Sowul and Darko Dejanovic served on the Solera Board and the board of directors of Omnitracs."
This was not the first time Vista tried to have Solera acquire a Vista-affiliated company. According to the lawsuit, Vista pushed Solera to acquire DealerSocket, which Vista owned. The screenshot below is part of an email Lauk sent on March 31, 2019, that was included in the lawsuit.

Earlier this year, the founder of DealerSocket, which provides customer management software for car dealerships, also sued Vista and alleged fraud at the private equity firm (link). The lawsuit alleged Vista engaged in "lies, secrets, value manipulation, minority shareholder oppression, bullying, and cover-ups."  
Vista's relationship with DealerSocket began in 2014 when Vista invested in DealerSocket at an equity valuation of approximately $387 million. Vista became the largest shareholder in DealerSocket and its designees would hold the majority of the seats on the board.
The March 2019 email from the Solera lawsuit called DealerSocket "a company which by most accounts had been struggling to succeed."
Then, according to the DealerSocket lawsuit, "In June of 2019, one DealerSocket equity valuation was $499,500,000—a gain of $112,500,00 since 2014."
So, despite allegedly "struggling to succeed," DealerSocket's valuation had increased materially.
Then, just 58 days later, DealerSocket's valuation fell by approximately 95% according to the lawsuit (see below).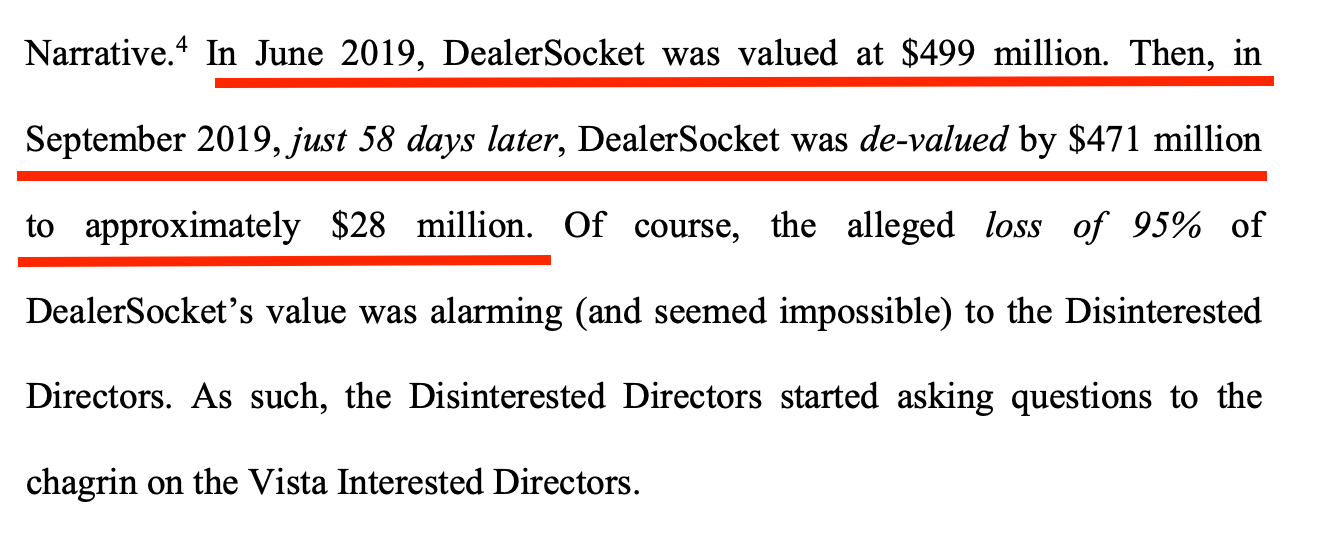 According to the lawsuit, the depressed $28 million valuation occurred around the same time as DealerSocket's proposed acquisition of Auto/Mate, a deal which was opposed by non-Vista directors. Vista also invested $263 million more equity into DealerSocket at the depressed valuation, which lowered the minority shareholder stake from 33% to 2%. (Screenshot below)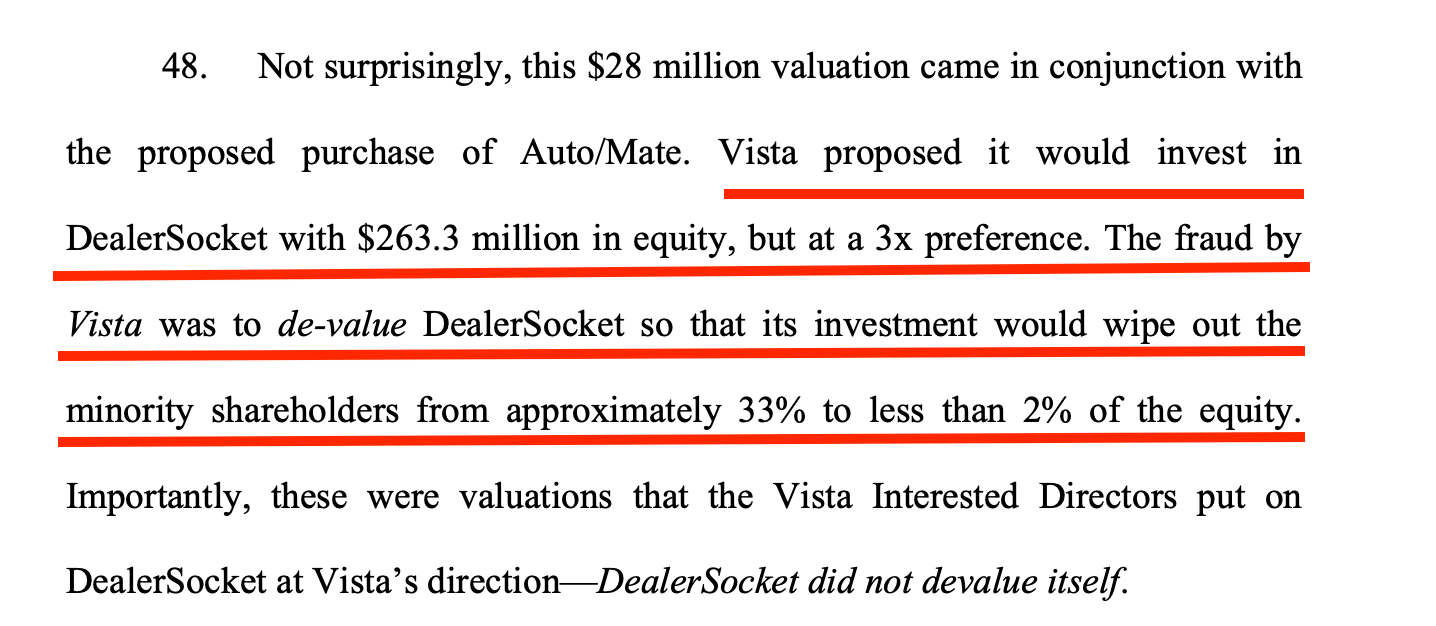 A footnote in the lawsuit reads: "[Valuation Research Company] was retained to conduct a valuation and is Vista's primary valuation company for its portfolio companies and is not truly independent." The lawsuit also claims, "Vista, by manipulating DealerSocket's long-term financial outlook, told VRC what and how to value DealerSocket."
According to the lawsuit, on October 8, 2019, the non-Vista directors at DealerSocket sent an email to Vista directors requesting "an explanation for the drastic fluctuation in valuation" and other information.
According to the lawsuit, that same day Jeff Wilson, a senior vice president at Vista, texted "Email answers not going to happen" to DealerSocket co-founder Jonathan Ord.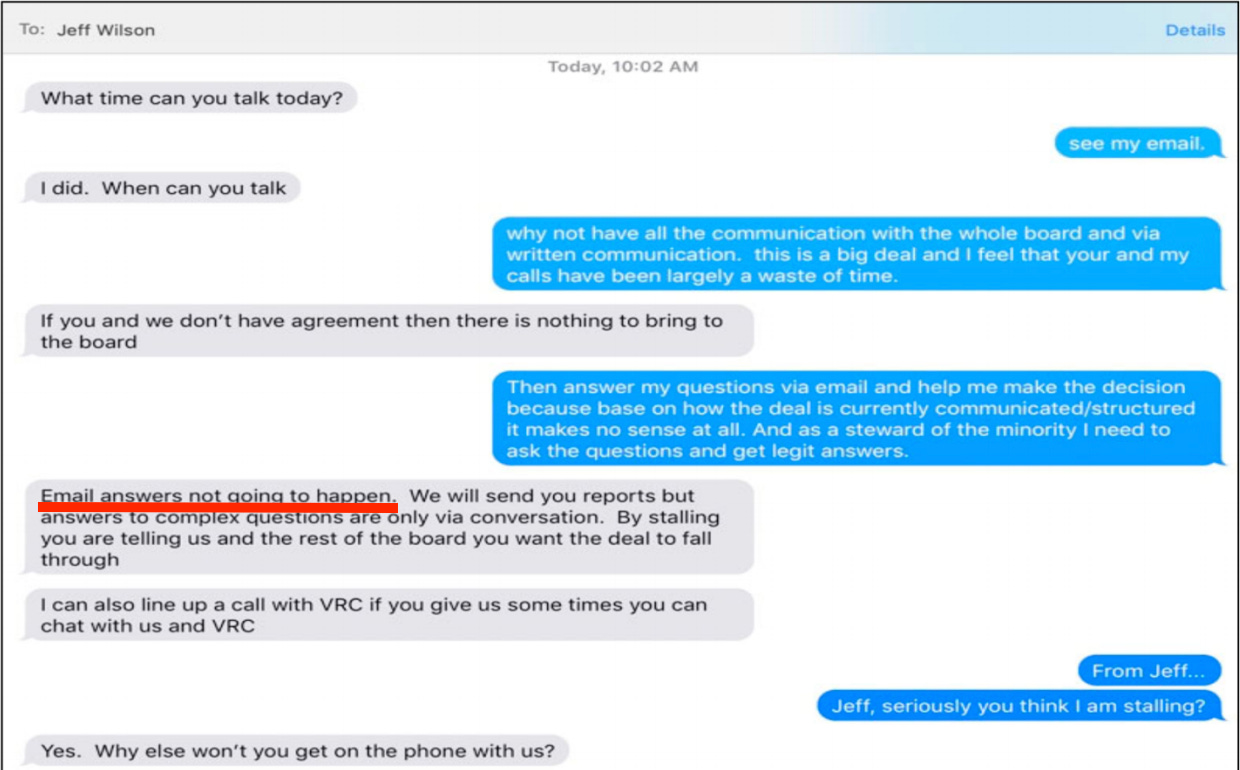 Two months after the devaluation, Vista increased the valuation of DealerSocket by approximately 800% (see below).

Based on my reading of both lawsuits, this is the wildly fluctuating story and valuation of DealerSocket:

The lawsuit stated, "The only thing clear about these wildly fluctuating valuations is that they lack transparency, accuracy and integrity…"
The problems disclosed in the Solera and DealerSocket lawsuits seem to conflict with investor perception of Vista. According to a June 2019 Wall Street Journal article, a Vista investor believed "Vista has never lost money on a controlling investment that it has exited."
Vista's first portfolio company IPO did not come until September 2019 with Ping Identity (NYSE: PING — $2.81 billion). Vista was launched in 2000.
In a comment letter from the SEC before the Ping's IPO, the SEC asked the company to update its risk factors around the difficulty of removing board members, writing,
"You state … that the directors may only be removed for cause, and only by the affirmative vote of holders of at least 66.66% in voting power, in the event that Vista beneficially owns less than 40% in voting power of your issued and outstanding stock. Please highlight such provision in this risk factor."
An SEC comment letter for another public Vista company, Jamf Holdings (NASDAQ: JAMF — $4.00 billion), asked the company for additional details on its director nomination agreement.  
Vista has come under renewed scrutiny because Robert Smith recently signed a non-prosecution agreement and admitted he repeatedly made false filings with the IRS. Mr. Smith agreed to pay more than $139 million in back taxes and will cooperate for five years.
David Anderson, a U.S. attorney in San Francisco, said, "Smith committed serious crimes, but he also agreed to cooperate… Smith's agreement to cooperate has put him on a path away from indictment."
On a call with Vista employees, Smith reportedly called the experience "humbling." In addition, Axios reported that "Brian Sheth, Vista's co-founder and president, is likely to be leaving Vista. Sheth himself was not on the call, and it does not appear that he was invited to participate."
In 2016, Robert Smith and his wife gave $125,000 to New York Attorney General Eric Schneiderman. Other employees of Vista were big donors as well. The donations occurred around the same time that Schneiderman was investigating Vista portfolio company Vivid Seats.
In 2017, Forbes profiled rising real-estate star Nate Paul. One of Mr. Paul's investors and early backers was Robert Smith who reportedly invested tens of millions into five of Nate Paul's deals and commented, "From an investment perspective his returns have been spectacular…"
Two years later, the FBI raided Mr. Paul's home and business. Mr. Paul is also at the center of an ongoing scandal at the Texas Attorney General's Office. Seven aides to the Texas Attorney General have alleged "improper influence, abuse of office, bribery and other potential crimes" by the Texas Attorney General over his dealings with Mr. Paul, who was a large donor in Texas political circles.
Vista Equity Partners is headquartered in Austin, Texas
Follow me on Twitter @StockJabber for updates
---
New Activist Reports
Hindenburg Research published on recycling tech company Loop Industries (NASDAQ: LOOP — $331 million).  
Bonitas Research published on truck tech company Hyliion (NYSE: HYLN — $4.16 billion).
---
What to Read
"Problems at EverQuote (EVER)" (The Bear Cave)
EverQuote (NASDAQ: EVER — $1.09 billion) claims to be a marketplace that helps consumers compare car insurance quotes, primarily on its website everquote.com. In reality, EverQuote is a combination of over 100 questionable auto insurance lead generation websites… EverQuote's model has generated hundreds of consumer complaints and scrutiny from state attorneys general based on records obtained via public record requests."
"String of Firms That Imploded Have Something in Common: Ernst & Young Audited Them" (WSJ)
"Big Four accounting concern reviewed the books of several companies where investors lost billions when scandals emerged. The firm says it uncovered some of the problems at its clients."
"The Billionaire Who Stood by Jeffrey Epstein" (NYT)
"Leon Black, whose $9 billion fortune could buy the best counsel in the world, paid at least $50 million to Mr. Epstein for advice and services after most others had deserted him."
---
Tweets of the Week
---
Until next week,
The Bear Cave
Got Feedback? Just Hit Reply
The Bear Cave is Not Investment Advice. Twitter: 
@StockJabber